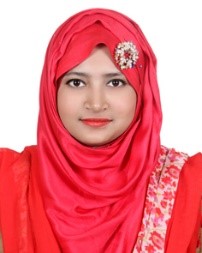 Ms. Nabila Jaman Tripti
Lecturer B
Department of Physical Sciences,
School of Engineering, Technology and Sciences
---
Room No:
C 7003
Email Address:
njtripti222@iub.edu.bd
Legends: Patent, Journal Paper, Conference Paper, Book Chapter, Others
---
Nabila Jaman, M Ferdows, MA Xenos, KE Hoque and EE Tzirtzilakis

, "Effect of Angle Bifurcation and Stenosis in Coronary Arteries: An Idealized Model Study", Biomed Research Journal (ISSN: 2578-8892), SciTech Central Inc., 340 S Lemon Ave # 2725 Walnut, CA 91789 United States , 2020, (Link)
MAT 100: : Basic University Mathematics I
MAT 101 : Intermediate University Mathematics II
MAT 104 : Calculus and Analytical Geometry
---
1. Lecturer
Department of Physical Sciences, School of Engineering, Technology and Sciences, Independent University, Bangladesh: September 2019-Presesnt
---
---
Professional Memebership
Life member of Bangladesh Mathematical Society (BMS)
Life member of Dhaka University Mathematics Alumni Association
Academic Awards
B. Sc (Honors) Scholarship: 1. Dean's Award-2016
2. Mittra Yusuf Memorial scholarship- 2015
3. NST Fellowship, 2018-2019
---
Master of Science (M. Sc) in Applied Mathematics, 2019
University of Dhaka
Bachelor of Science (B. Sc Honors) in Mathematics, 2017
University of Dhaka
Higher Secondary Certificate (HSC), 2011
Siddheswari Girl's College, Dhaka
Secondary School Certificate (SSC), 2009
Provati Uchya Bidyanikaton, Moghbazar, Dhaka.