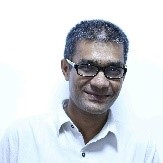 Monir Ahamed
Lab Manager
Department of Media and Communication,
School of Liberal Arts & Social Sciences
---
Room No:
7013
Email Address:
monirratan@iub.edu.bd
Phone Number:
Ext: 2414
Legends: Patent, Journal Paper, Conference Paper, Book Chapter, Others
---
---
Creative, meticulous and dedicated media person with an excellent eye for details. A High level of proficiency in video editing software particularly Adobe Premiere, Apple Final Cut, DaVinci Resolve and great experience in video pre and post production. Expert-level understanding of camera equipment, including operation and maintenance. Accustomed to working in any sort of conditions, including outdoor sets. Proven performer during high pressure situations; ability to handle multiple projects and meet prescribed deadlines.
---