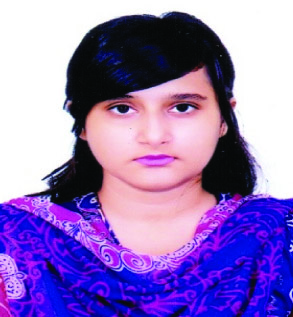 Zaima Ahmed
Lecturer A
Department of Finance,
School of Business & Entrepreneurship
---
Room No:
4005
Email Address:
zaima.ahmed@iub.edu.bd
Legends: Patent, Journal Paper, Conference Paper, Book Chapter, Others
---
Project Title: Dissertation: Impact Of South-South FDI in Sub-Saharan African Economies
Project Manager: This dissertation is submitted in partial fulfilment of the requirements for the degree of MSc Finance and Development of the School of Oriental and African Studies (University of London).
Project Title: Summer 2012 Thesis Paper: Public Debt and Economic Growth: The Case of Bangladesh
Project Manager: A Research Paper Presented in Partial Fulfillment of the Requirements for the Degree Bachelor of Science in Economics. Independent University Bangladesh
BBA 499 : INTERNSHIP
BUS 201 : INTRODUCTION TO BUSINESS
BUS 202 : BUSINESS MATHEMATICS
FIN 201 : INTRODUCTION TO FINANCE
FIN 301 : BUSINESS FINANCE
FIN 302 : CORPORATE FINANCE
FIN 305 : FINANCIAL REPORTING ENVIRONMENT
FIN 401 : BANKING AND FINANCE
FIN 480 : INTERNATIONAL FINANCIAL MANAGEMENT
LFE 201 : LIVE IN FIELD EXPERIENCE
---
January 2016-Current
Lecturer Finance, Independent University Bangladesh (IUB)
· Teaching mathematics and finance courses to undergraduate students.

· Courses Taught Introduction to Finance (FIN 201) , Business Finance (I) (FIN 301) 4. Corporate Finance (FIN 302) 5. Banking and Finance (FIN 401) 6. International Financial Management (FIN 480 7. Introduction To Business (BUS 201) 8. Business Mathematics ( BUS 202)

· Supervising interns and overseeing research-based internship reports

· Supervising students in field research work in Live in Field Experience (Spring 2017) and (Spring 2020)

· Evaluating research presentation of interns

· Providing student support

· Course Coordinator for Introduction to Finance (FIN 201)

· Career planning and student advising.

· Assessing student coursework and material

· Involved in research work

· Presented research proposal for Centre for Business Policy Research (CBPR), Independent University Bangladesh Funding " Contemporary Sustainability Status of Banking Sector in Bangladesh"- 28th February. Accepted for funding. Ongoing Research

· Organized seminar in coordination with Casper Foundation and Finance Department – 7th February 2017

· Organized seminar in coordination with Dhaka Stock Exchange

· Organized seminar with LankBangla Finance

· Organized departmental magazine launching

· Organized Industrial tour for students with Dhaka Stock Exchange

· Organized Online Case Study Competition

· Maintaining liaison with external Professional bodies and corporate.

· Developed course curriculum for CFA University Affiliation

May 2019- April 2020
Part Time Consultant , SMJ Data
· Carrying out background research on trade related issues in Africa
· Writing project inception, status and final report
· Analyzing primary and secondary data
· Preparing project proposals
April 2015- August 2015
Research Associate, Institute for Policy Advocacy and Governance (IPAG)
Liaising with clients to receive instructions about the nature of the research to be carried out

Spearheading IPAG's in house research on BCIM

Supporting Proposals and concept note preparation

Advising external bodies on social policy

Analyzing and evaluating research and interpreting data, making sure that key issues are identified;

Organized China (Guangzhou)-Bangladesh (Dhaka)

Industrial Cooperation Seminar and Project Matchmaking Forum at Westin
November2012- August2013:
STT/Research Assistant, (Contractual) World Bank Education Unit
§ Monitoring field surveys across various districts of Bangladesh
§ Preparing smart survey methods and ensuring flawless data
§ Updating survey related database
Preparing status and progress report

Supporting World Bank ESR (Education Sector Review) team on the writing of the Policy Notes

Carrying out background work on various reports and studies prepared by Development partners

Conducting data collection, compilation and analysis for activities related to the Monitoring and Evaluation of project and post-secondary sub-sector.
September 2012 –November2012
Intern, Southeast Bank Bangladesh
§ Assured IPOs (Initial Public Offering) & input data of the IPOs using Microsoft excel
§ Verified cheques and prepare OBC (outside Bill Collection) registered those and sent to Corporate Branch
§ Worked in customer care by maintaining phone calls, assisting them to resolute their problems
§ Prepared Loan proposal by using Microsoft word, Excel, Access.
January 2003 – July 2012:
Tutor, Primary & Secondary level coursework
---
MSc Finance and Development , 2014
School of Oriental and African Studies
BSc Economics and BBA Finance , 2012
Independent University, Bangladesh
A LEVELS, 2008
MASTERMIND SCHOOL
O LEVELS, 2006
SUNNYDALE SCHOOL