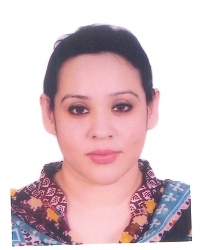 Fariya Hossain Khan
Lecturer B
Department of Media and Communication,
School of Liberal Arts & Social Sciences
---
Room No:
7008A
Email Address:
fariya@iub.edu.bd
Legends: Patent, Journal Paper, Conference Paper, Book Chapter, Others
---
CMN 201 : Introduction to Communication
CMN 202 : Public Speaking
CMN 203 : Mass Communication: Structure and Process
CMN 301 : Development Communication
CMN 305 : Media and Development
CMN 316 : Development Support Communication
CMN 321 : Advertising Business Practice
CMN 325 : Organizational Communication
CMN 403 : Rural Development
CMN 425 : Writing for Marketing Communication
---
Fariya Hossain Khan is a Lecturer for the Media & Communication Department, since Autumn 2007. Mainly concentrating on the Introductory and the Advertising stream courses also few courses from the Development Stream. Teaching alongside the Public Speaking course which is another primary and a popular course.
She took part in LFE (Live in Field Experience) twice and in 2017 was assigned as the venue coordinator.
She has been supervising various interns every semester and advising and performing invigilation duties. Currently she is the Internship Coordinator for the Department of Media and Communication.
She is the member of two committee groups of IUB 1) Employee Award and Recognition and 2) TOR for Sexual Harrassment.

While pursuing her Master's she had also received a Certificate of Appreciation from the Mayor of Arkansas, USA for voluntary work for the City of Little Rock.
---
MPA : Masters In Public Administration , 2003
University of Arkansas, Little Rock, USA
Bsc : Bachelor of Social Science in Development Communication , 2000
Independent University,Bangladesh