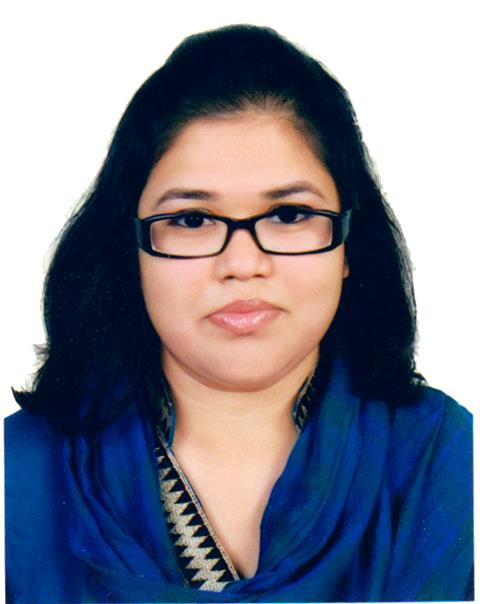 Ms. Refat Ara Jerin
Lecturer B
Department of Media and Communication,
School of Liberal Arts & Social Sciences
---
Room No:
8016 (Jubilee Building)
Email Address:
rjerin@iub.edu.bd
Legends: Patent, Journal Paper, Conference Paper, Book Chapter, Others
---
| | |
| --- | --- |
| | , "Pixar in Classrooms", International Conference on Teaching and Learning (ITCL), , 2018, |
Project Title: Understanding how Bangladeshi private university students define depression and what role the media in Bangladesh plays at informing and creating awareness among young adults
Project Manager: Refat Ara Jerin, Rifat Tanvir Rafi
Project Title: Music of the Female Identity: Presentation of the Heroine through sound in Sanjay Leela Bhansali's Epic Historical Adaptation of Bajirao Mastani and Padmaavat
Project Manager: Refat Ara Jerin
Project Title: Psychoanalysis of Long Takes: A Critical Analysis of Films by Kim Ki-duk
Project Manager: Refat Ara Jerin
Project Title: Pixar in Classrooms
Project Manager: Refat Ara Jerin
CMN 201 : Introduction to Communication
CMN 205 : Introduction to Interactive Media
CMN 312 : Sound Theory and Practice
CMN 312 : Video Editing
CMN 413 : Computer Mediated Communication
---
Refat Ara Jerin is a lecturer at the Department of Media and Communication, in SLASS. She completed her Bachelor of Arts in Film and Digital Media from the American University of Rome (AUR) in 2012. After returning to Bangladesh, she completed her Master of Social Science in Media and Communication from IUB in 2017. While she was completing her Master's degree, she was also employed by the department as a Graduate Assistant: her responsibilities included assisting graduate students with admission and registration, smooth transitioning into the master's program for new students, and assisting senior faculty members during class hours among other tasks. Refat was also involved as a Research Assistant at the Centre for Social Science Research (CSSR) at IUB.
Simultaneously, Refat was employed at Mind Flick, a freelance advertising agency, where she took the role of the Creative Director. Having brought experience in communication design, she utilized her skills to fulfill clients' requirements and establish smooth communication for marketing and profit.
After successfully completing her Master's degree, Refat joined the Green University as an Adjunct Lecturer for one semester at the Department of Journalism and Media Communication (formally known as Film, Television and Digital Media). While teaching at Green University, Refat was employed at Dhaka Tribune as a sub-editor for the central desk and the showtime desk, therefore balancing both professions simultaneously.
Research Focus: Film Theory and Film Criticism; Sound Theory; Filmmaking Aesthetics; Auteur Theory; Contemporary Cinema and Cultural Identity; Digital Cinema; European and Asian Independent Cinema; The American Avante-Garde Cinema; Digital Media and Computer Mediated Communication; Social Media, Communication and Everyday Culture.
Teaching Focus: Human Communication; Sound Theory and Practice; Graphic Design and Production; Digital Filmmaking; Interactive Media; 2D Animation, Web Design; Cinematography; Editing and Post-production; Experimental and Contemporary Filmmaking; Film Theory and Criticism
---
---
Successfully participated in Certificate Course in e-Learning and Teaching (CeLT), organized by Foundation for Learning, Teaching and Research, Green University of Bangladesh (GUB), Dhaka, Bangladesh: Nov 20 - Dec 05, 2020
---
MSS in Media and Communication, 2017
Independent University, Bangladesh
BA in Film and Digital Media, 2012
American University of Rome