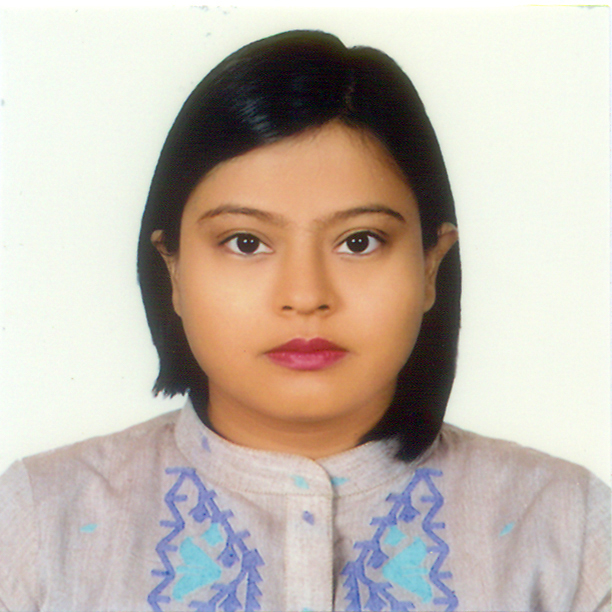 Mushfeqa Islam
Lecturer B
Department of Media and Communication,
School of Liberal Arts & Social Sciences
---
Room No:
8016 (Jubilee Building)
Email Address:
mushfeqa@iub.edu.bd
Legends: Patent, Journal Paper, Conference Paper, Book Chapter, Others
---
| | |
| --- | --- |
| | , "The Framing of #MeToo Movement and the Political-Economy of Newspaper and Online News Media in Bangladesh ", Transformations, Continuations and Social Movements in Contemporary Time, Dept. of Sociology, South Asian University, Delhi, India and Rosa Luxemburg Stiftung, Germany , 2019, |
Project Title: Remaking Western Texts in Asia
Project Manager: Project Manager: Prof. Ahmed Ahsanuzzaman (PI), Prof. Zakir Hossain Raju (Co-PI), Ms. Raiyana Rahman (CI), Ms. Mushfeqa Islam (CI)
BDS 109 : Bangladesh 1971-Through the lenses
CMN 201 : Introduction to Communication
CMN 203 : Mass Communication: Structure and Process
CMN 207 : Introduction to Media Writing
CMN 308 : Newspaper Reporting and Editing
CMN 323 : Copywriting
CMN 419 : Feature Writing
---
Mushfeqa Islam has started her career as a journalist at Daily Prothom Alo in the year of 2016. Later on, she shifted to academia in 2018. At the department, she teaches courses from 'Journalism' and 'Advertising' streams along with other foundation and core courses. She has also contributed as a subcommittee convener at 'Second International Conference on Teaching and Learning' by Center for Pedagogy, IUB.
Mushfeqa represented her university at '100 Member Youth Delegation to India-2014', sponsored by the Government of India. She was a member and Treasurer of MCJ Film Club from 2013-2015. Apart from teaching, she is currently contributing as a creative writer and translator at 'Pro Anya Alo', the literary supplement of Daily Prothom Alo.
---
---
Awards and Achievements:
· Awarded with prestigious "Professor Sitara Parveen Award- 2014" by Dept. of Mass Communication and Journalism for outstanding academic achievements.
· Scholarship from the Directorate of Secondary and Higher Education for securing merit position in B.S.S
· Participated as a Student Delegate from University of Dhaka on "100 Member Youth Delegation to India-2014", sponsored by Government of India
· Awarded by High Commission of India, Dhaka in the Photography Contest titled, "Visit to India".
Membership and Affiliation
· Advisor at United Power of Humanity Foundation (May, 2018 to present)
· Contributor at Daily Prothom Alo, Pro Anya Alo (November, 2018 to present)
· Freelance Translator
---
M.S.S. (Master of Social Sciences) in Mass Communication and Journalism, 2015
University of Dhaka
B.S.S. Hons. (Bachelor of Social Sciences) in Mass Communication and Journalism, 2014
University of Dhaka